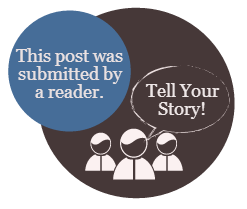 Everyone has their own story, some fortunate, some less so. Mine is a story of abuse, neglect and mental illness, and the long road back.  I offer it for whatever hope and guidance it may provide for others currently suffering.
Me, A Victim  
In 1956 when I was thirteen and starting in middle school, my mother had the first of her several operations for intestinal cancer. She told me that she had "tumors," but that meant one thing to me— cancer.  Around the same time, I, too, began having stomach pains along with constipation like hers. I always had problems getting along with other kids, being teased and harassed, and being nervous, and now I was in great distress.
I feared something was terribly wrong, and I turned to our family doctor for help. But he said he couldn't see anything physically wrong. I'm sure I told him about my other problems, too. Again-and-again, I went back to this same doctor as my problems grew worse. You'd think he would have done something– a mental health referral, at the least. Yet, he didn't do anything that I recall, except once he prescribed a short course of minor tranquilizers.
This has bothered me ever since. Was he up to something? Was he trying to hurt me? My mother was an educated woman, too. She had been an elementary school teacher and had a strong interest in children.  And, my father made a nice living, and we lived in a nice house in a nice suburb.
When I went back to high school in the fall of my Junior year, things were so bad I could hardly pay attention to what was going on, I talked slowly and walked slowly, was very depressed, and easily angered.  All I could think about was how sick I was and how no one seemed to want to help me.  I had already made at least one failed suicide attempt, and I frequently thought of suicide.
The Assistant Principal finally put his foot down. He said I couldn't come back until I had some help. That's when my mother first took me to see a Psychiatrist. By that time, I needed to be hospitalized. I was first on a psychiatric floor at a general hospital for several months. They had no program for someone of my age, and I spent most of my time doing nothing.  Because I still had suicide thought, severe depression, and other problems the doctor told my mother to have me committed to the state hospital.
Catastrophe Strikes!
Back in 1960 when I was there, the hospital was a behemoth.  It had around 3,000 patients. It had been built in stages. Each one was added on until it reached half a block or more long.  The oldest part dated back to 1873 and the newest to 1915. In 1981 it was named a national historic site, and in 2000 it was demolished (Wikipedia).
Inside, it hadn't been kept up.  It was winter when I went in, and the bedrooms had little or no heat. They lacked proper ventilation, and they smelled of urine and feces, and the floor and walls were bare concrete. The blankets on the beds weren't adequate for the cold. Many of the toilets and showers in the bathrooms didn't work for one reason or another, either.
Like the other hospital, there was practically nothing to do. I had to sit on a hard wood chair all day long in a large room called the dayroom, except for meals or to go the bathroom. The chairs were spread out beneath windows that surrounded three sides of the room, which they leaked cold air badly. There were no pictures or decorations, just an old radio blaring out rock, country and religious music–and a lot of static
Of the 20 or so with me there, I was the youngest.  The state hospital's children's program only went through age fifteen. When I asked about transferring, they said they couldn't make an exception for me. They also didn't have a school program to put me in.
The food was bad, to say the least. I lost considerable weight during my ten months stay, which can lead to serious health consequences. The orange juice and fruit were so unappetizing, I developed holes in my gums due to lack of Vitamin C.  My dentist back home said I had Scurvy, the only case he'd ever seen in his practice. It was common in sailors over a hundred years ago who had no fresh fruit, but it's rare in modern times in this country.
I had many cavities in my teeth due to my dependence on sweets to make up for what I wouldn't eat at meals. I purchased them at the hospital canteen with the allowance sent me by my mother. Later, when I returned home, it took months of dental appointments to fill them. There were so many of them and they were so bad, in fact, I recall the dentist at the state hospital said he didn't have time to fill them. He wanted to pull the teeth instead, which would have left me with gaping holes in my mouth at sixteen.
Shock Treatment!
When I first came to the state hospital, I was extremely depressed and lonely, and felt I had been abandoned by everyone. I heard "voices" I took for real telling me that I was so "ugly" and "awful" that everyone "picked on me" and was "against me." The bleak surroundings only made things worse. There didn't seem to be any hope at all. Time and again, I thought of suicide. What stopped me, I don't know.
I wasn't there very long before the doctor put me on a heavy dose of Thorazine. I also had Thorazine at the other hospital I was in. It is a tranquilizer that is supposed to calm severely disturbed patients and stop the "voices" and other things bothering them. I didn't like it at all.  All I can remember is that I was on the verge of drifting off to sleep almost all the time. Later, I was on a smaller dose of another tranquilizer I found helpful.
By far the worst part of it was the shock treatment. I had between 20-30 bilateral electroshock treatments where the electrodes are placed on both sides of the head. Bilateral shock treatments are thought to be the most damaging. The doctor injected a muscle relaxant in my vein without putting me to sleep first. I stopped breathing in seconds. The panic and pain go beyond words to describe! And, it happened not once, but again-and-again.
(Note: There are several kinds of muscle relaxant drugs. The type of muscle relaxant I am talking about paralyzes the smooth muscles, including the diaphragm that pumps the lungs, and stops all breathing. It is essential in electroshock in preventing bone fractures that can occur from the convulsion when an electric current is run through the patient's head).
Dr Peter Breggin in his book, Electro-Shock: Its Brain-Disabling Effects, stated that giving the muscle relaxant before putting a patient to sleep is still employed by a minority of Psychiatrists, though frowned upon by the many. It harkens back to the old days of the state hospitals in the 19th and early 20th centuries when patients were forced into submission to their caretakers through painful treatments of various kinds.
Now Something Else is Wrong
My stomach pains vanished after shock treatment. Also, I had more energy. Apparently, these problems were due to my psychiatric condition, not a physical illness after all.  Yet, I paid a heavy price for years to come.
My speech was filled with long delays, and I had to search for the words to say simple things.  Oftentimes, what came out was not right, but something that rhymed or otherwise sounded like it. In writing papers, I was frequently at a loss for words.  My grammar was poor, and I couldn't spell many words. I couldn't remember things like I used to, either.   Formerly, I had been an 'A' and 'B' student. Once back in school, I had to struggle just to get "B's" and "C's," and devote most of my spare time to studying.  These are the kind of problems found in stroke and brain damage conditions. Why did this have to happen to me at my age?  It made me angry to no end.
My head was wrapped up in painful memories. It was so bad at times I almost walked into a busy street without realizing it.  Only somebody honking their horn or somebody pulling me back stopped me. Without a doubt, I had Post Traumatic Stress.  It became less of a problem over time, but even now, almost sixty years on, every day I think about shock treatments and the state hospital.
At sixteen, I was at high risk for shock treatment. according to the UK Health Service. Also, pregnant women, those with preexisting brain damage, and those who received multiple shock treatments before are at high risk. (UK Institute for Health Care Excellence, 2003/2014, http: nice.org.uk/guidance/ta, p. 59).  Moreover, a report by The Federal Drug Administration (FDA) said there is no evidence that electroshock is effective in anyone under age eighteen. It also makes mention of the risks involved as contraindicating electroshock at this age. (Neurological Devices; Reclassification of Electroconvulsive Therapy Devices, 2016, 80 FR 81223, Pp.81223-81233.
Knowing this now, it looks like I never should have had shock treatment. I don't know why I showed the improvement I did. A popular theory of how shock treatment works is that it causes temporary disorientation and confusion– like concussion and other conditions that cause brain damage. It is like a good knock on the head, only shock treatment doesn't hurt at the time, provided the patient is put to sleep first. Afterwards, patients may forget what's bothering them. They tell their Psychiatrist they "feel better." It is only later when they try to return to school, nursing, or whatever they were doing that they realize the full extent of their impairment. Some are permanently disabled. This is the tragedy of electroshock.
 A New Start
What saved me was a determination to rise above my limitations and humiliation. Fortunately, I was not so damaged that this was still possible, although there was a long and hard road ahead.
On one of my first home visits, I asked my mother to arrange for me to attend summer school at the local high school. I had a grounds card by then and could walk the hospital grounds. All I needed was permission to leave a few hours a day. If I could do well in summer school– so I thought– it would show I could "make it" back home, and the hospital would release me.
The hospital did allow me to go to summer school, but it turned out to be quite hard. I'd forget almost everything I read, and I'd need to go back and read it again-and-again to remember anything. Or, I couldn't concentrate at all because of the painful thoughts running through my head.  Also, I had to have help with the papers I wrote, because my writing skills had deteriorated so much. It was so exasperating it was a wonder I didn't give up!
I did get a "B" in Junior English that summer, but then the hospital decided I couldn't go home. By then, I was living in an old house on the hospital grounds that was built in 1917, where the bathrooms and everything else were as bad as the main building. I was so mad. I refused to make my bed or do other chores until they set my discharge. For that, they took me into the boss's office, beat me, and stuck wood splinters underneath my fingernails.
Then I was sent to what they called a back ward. This is where they kept their chronic patients who didn't respond to anything else.  I had to sit most of the day in a little room doing nothing with men a lot older than me. They talked to themselves, grabbed at imaginary things in the air, and filled the room with the awful smoke of roll-your-own cigarettes.
I wrote my mother, wanting her to see if the the hospital would let somebody pick me up, take me home to meet with a tutor, do my homework, and bring me back.  My mother died of cancer around about that time. But later, my aunt came to the hospital. I gave her the name of someone at my high school I thought would tutor me, and she set it up.
All was going according to plan, but the high school had a date I had to be back, or I'd have to wait much longer. I asked the doctor at the hospital to release me several times, but nothing happened.  So, I called the Child Psychiatrist I'd seen before I went into the hospital. Also, he happened be the one who'd set up the state hospital's children's program. And, he was interested enough to call the hospital for me. A doctor from the hospital called me back the same day and told me I could stay home from now on.  I was very glad to be out, but I had all the problems with speech, memory, writing, and so on, and Post Traumatic Stress as I described above.
 My Life Beyond the State Hospital. 
Because of my bad experience, I'd taken an interest in mental health and reforming the system. Once home, I took the bus to the main library in the city near where I lived. I must have read most of the complete works of Freud by the time I finished high school.
I asked my father if I could go for psychotherapy and receive medication.  My understanding then was that I might relapse without medication.  He didn't go for it, just like before when my problems were increasing.  When I went back to our family doctor, he again refused to prescribe anything for me. This was true even when I was eighteen and of legal age, and he was also very hesitant to refer me to for psychotherapy.  It was the same old thing as when my mother was alive, only now it was just the two of them standing in my way.
It was now two years on since I came home.  Somehow, I managed until then, but was getting very nervous again. Was it back to square one again? I finally decided to go see a Psychiatrist I knew of from the state hospital. I thought she was one of the better ones, because of the way she treated patients.  My father– who wasn't poor–relented and agreed to pay for it. I think the psychotherapy and a low dose of tranquilizer helped me a great deal.
My problems with speech were as hard or harder to resolve.  I had to make over 1,000 cassette tapes and redo them until I was satisfied. Fortunately, my other difficulties with new learning, writing, school grades, and shyness have very much lessened over the years.
While on home visits from the hospital I wrote to anyone I thought might help me, including the Congressman from my district. Many years later, I was surprised to hear from him. He said the state legislature was going to have hearings on revising the mental health code.  He asked me to provide an account of my experiences, and he'd see the right parties got it. By then I was living in another state and provided him a written account. I don't know it had any impact, but I'm glad I did because something badly needed to be done!
Originally, I planned to go to medical school and become a Psychiatrist, but my academic problems proved too great– if it were ever possible for me at all.  Instead, I majored in Psychology, obtained my Bachelors' and Masters' Degrees, and went on to be a practicing clinician for over thirty years.
A Road Map Back
One of my favorite books is Peter Seligman's, Learned Helplessness: A theory for the Age of Personal Control. He described depression as "learned helplessness."  Overcoming it is just the opposite. It means making goals and working on them. Let's say someone is in a state hospital where they receive painful shock treatments, get beat up, and they won't let them go home for a very long time. Someone like this feels helpless and angry and is very depressed– believe me! Now they get out of the hospital and are very upset by what their missing, but actively work on their problems. Now, it's a little bit better and so on.
There are any number of circumstances where people lose control of their lives, or they never had control to begin with, and they are very depressed.  I highly recommend Seligman's book to anyone suffering a big let-downs in their life, depression, and/or suicide thoughts. While the bigger prize may not be achievable for some time, or perhaps never, reaching smaller goals such as reading more or jogging more may make someone feel better.
For victims of electroshock abuse wishing to be part of a supportive community or anyone wanting to report electroshock abuse, I recommend www.ectjustice.com.  It is an on-line advocacy website. sponsored by the DK Law Group.
 Michael E. Sturman, M.A.