On December 3, 2015, Ronald Pies, MD, published Campus Protests, Narcissism, and the Dearth of Civility on Psychiatric Times.
The article is subtitled:  What can we do, as a society, to reduce the levels of incivility and narcissism that appear to be on the rise?
Here are some quotes:
"…I believe we are witnessing the gradual but steady erosion of civility in American culture."
"As a psychiatrist, however, I am also interested in the psychological development of the child, and why some children seem to develop along a trajectory that leads to intense narcissism—the fertile soil, in my view, upon which incivility thrives. Indeed, there is good evidence that narcissism has been increasing among our young people in recent decades—a factor that cannot be overlooked as we view incivility on the college campus. Leaving aside various technical and psychoanalytic definitions of the term, we can think of narcissism, broadly, as the attitude that proclaims, 'I should be able to do whatever the hell I please, and if other people don't like it, that's just too bad!'"
"In this regard, I believe our schools must play a more prominent role in the inculcation of communal and interpersonal values."
"But in order to change the trajectory of our young people's character development, we will need a concerted effort in which parents and teachers collaborate—a tall order for many schools struggling simply to maintain safety and order. Still, we need to start somewhere, if we are to create a culture in which mutual respect and civility are widely and deeply held values."
PSYCHIATRY'S ROLE IN THE SPREAD OF INCIVILITY
But Dr. Pies makes no mention of the obvious fact that the past fifty years of increasing psychiatric "diagnosis" has been a major contributor to the increase in incivility which he laments.
In the fifties, and even into the tumultuous sixties, incivility in the school, home, workplace, or street, was regarded, quite simply as unacceptable behavior, and was addressed, with reasonable success, through various formal and informal sanctions, corrections, reprimands, etc…
But then psychiatry began its relentless drive to medicalize every conceivable human problem.  Expressions of rudeness, and inconsideration were gradually transformed, by psychiatric edict, into symptoms of illnesses, for which the perpetrators needed – not discipline and correction – but "medication".
Here's a short list of actions that used to be considered expressions of rudeness, incivility, and lack of consideration, that have, without the slightest evidence, been transformed into "symptoms of illness".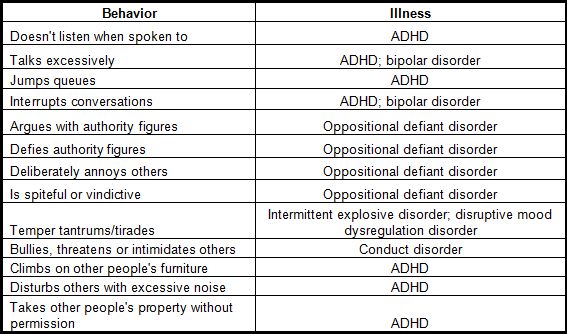 In former times, parents, teachers, and other significant adults routinely took steps to correct these sorts of behaviors as and when they occurred.  Today, thanks to psychiatry, these kinds of informal, but effective, measures have been stayed by psychiatry's spurious and destructive message:  these children are ill; they need treatment.
In fact, psychiatry's spurious medicalization of misbehavior has actually created a situation where teachers endeavoring to take appropriate action in matters of this kind could find themselves open to accusations of disability discrimination.
And to make matters worse, schools are effectively disincentivized to take appropriate action by the fact that they can receive additional funding for many of these "sick" children on their rolls.
And, in deference to their so-called illnesses, these children are given special concessions in examinations and other tests, a practice which effectively penalizes those children who, through personal effort and appropriate parental training, have overcome the limitations of infancy, and have progressively mastered age-appropriate behavioral expectations.
NARCISSISM
Dr. Pies expresses the belief that narcissism is the root of incivility.  He describes narcissism as "the fertile soil…upon which incivility thrives".  Narcissism, incidentally, is also a "mental illness" (narcissistic personality disorder), provided certain arbitrary and vaguely defined measures of severity are met.  In the present article, Dr. Pies defines narcissism as:
"…the attitude that proclaims, 'I should be able to do whatever the hell I please, and if other people don't like it, that's just too bad!'"
But to assert that this is the root cause of incivility is precisely the same kind of circular reasoning that characterizes all psychiatric explanations.
Question:         Why is my child so rude and inconsiderate?
Psychiatrist:     Because he is narcissistic.
Question:         How do you know he's narcissistic?
Psychiatrist:     Because he's so rude and inconsiderate!
Psychiatric labels (including narcissism) have no explanatory value.  They are merely labels created by psychiatrists to legitimize their drug-pushing activity.
The reason that some children are routinely rude and incivil is because they haven't been effectively trained to be otherwise.  And the proliferation of psychiatry's pseudo-diagnoses and ineffective "treatments" has served to discourage this kind of training for the past fifty years.
This is just one more area where psychiatry is destroying the very fabric of our culture, and replacing it with a culture of drug-induced powerlessness, dependency, and unaccountability.