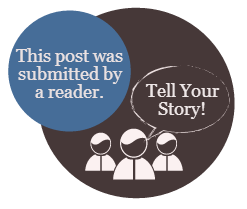 The following post is a part of our "Tell Your Story" category, where our readers submit their stories about their contact with the mental health system.
This was originally a submission in our forum by AlmuntherAlmaktoum, before we changed to the new submission format:
Hi,
I am sharing a series of forum posts written by a friend of mine. This is a man who suffered from Schizophrenia, has had a criminal history and had 7 relapses.I am posting this because recently, he was able to challenge his delusions and through a tolerant religious belief system was able to remain off the medication and function normally in society.Unfortunately due the flaws with modern psychological treatment that most readers of this website are familiar with, he has been forced to take drugs and consequently he has lost the belief that helped him challenge his delusion.I am also sharing an audio recording that he did of a recent meeting with his carers.http://involuntarytreatmentcase.com/?q=node/1#attachments

He has given me permission to share all this.

Quote
Peace dear brothers and sisters. I have been diagnosed with schizophrenia aprox about four and a half years ago. It started about over six years ago and the first diagnosis was psychotic(schizophrenia is a so called psychotic illness). Since I have had about seven episodes because I kept trying to get of medication and beat it naturally.

Some time after my third episode i started looking into Islam and I started praying suni way. I prayed for about six months and then I relapsed because I was again reducing my medication. This time when I relapsed I realised that I have to wright the wrongs that I have done in the past but I didn't make it. By that I meant go to the police and telling them all the serious things that i dind that they might want to investigate. This is because I had criminal history for wich I pray to God to forgive me.

Now this was happening all in prison. Now just before I got out I relapsed again and i contacted the police. Mind you I wasn't praying for a long time because after my fourth episode I didn't know what to believe in about God, but I did believe in God.

J have told the police some stuff, but not everything. I mean I was supose to come out, and after four years you do want out. However, I started trying to do now everything wright. I wasn't into drugs or anything else. Few times I went out but that's nothing.anyway I got sick about two years after I got out and I contacted the police and have told them more stuff. Stuff I thought wad serious but it turns out its not that serious after all. Two more times u went, all up four. Twice when sick and twice while well. All along i have been searching for the truth about God. I loked into may different religions.

Now the medication that they give you can take you away from the monotheistic God. Now I knew I had to be free from medication and illness in order to be able to work out truth about God. I also had to Do good and be truthful so I tried my best to be a better person.

Now my last episode ended in me not taking the medication and I hit to the point were my past was geting to me so bad that I felt suicidal. So I made a mistake and I called the hospital. I wanted to admit my self to save my life. However one thing came back and that's the belief in the monotheistic God and in the Koran.So I ended up taking medication that night and and the next morning and I was better but I started geting away to relaxed when it comes to God. So I thought I am going to try to stop it again and pray to God to heal me, to forgive me for my sins. I thought what if it hits me and I end up comiting suicide, because that semed as a risk. And then I made a decision and that is that I will take that risk because I want to not be taken away from my God. So this was next day as I was sick, now about fifteen minutes after making that decision I started thinking how a lot if stuff that I believe in while sick is impossible to be true. And another five or ten minutes and somehow everything went to normal. This was about two and a half weeks ago.

The problem now Is that I am on a community treatment order which means they can force me to take medication against my will. The nurse said that what happened in my case is extremely rare. That its very very unusual.

So I had to see a doctor and he said that because I had many episodes I will relapse again. But the way I came out if episode also almost never happens.

Brothers and sisters I feel very good. The illness is gone. Now I a will have to fight psychiatrists who are no better than drug dealers sometimes. Wich means I could be locked up in a hospital any day now and forcibly injected even though that the nurse for instance admits that i apear right now as someone who is not mentally ill.

The reason I have told you this story is not egoistical. It's simply my experience if what I believe is God helping me when I start doing everything(or almost everything) right.

Now I have to wait and see what will the psychiatrists do.

Thanks
_______________________________________

Peace. I have just seen a doctor and a nurse and because I wasn't tuning away from them, because I kept you.g to the appointments and all they have agreed to not force me to take the medication.

I sugested to them that I euphoria maybe see them weekly and they agreed. I haven't been this happy in a long time all thanks to Gog.

Praise be to Allah, lord if the worlds.

Thanks

____________________________________________

Sorry for not answering your question earlier. Yes I do have tooth fillings but I supose so many other people have to. Schizophrenia afects aparently only one in hundred. While any mental illness is one in five so I have heard.

By the way I am good now Alhumdulilah. And InshAllah I will stay that way.

Thanks
________________________________________________

Peace Yusef. What I believe helped me wads going to the police and owning up to what I have done in the past since like I said, I have dine things. In about two and a half years I went four times. Also deciding many years ago to turn to God. I have also given up smoking, drinking, drugs. I kept trying to come of the medication. I have been open to truth about God.

Last time I decided not to take the medication I did it for God(and me ofcourse). Well, obeying God is helping your self. I took a risk. Also not taking the medication in the past involved a lot of suffering.

Trying to do everything right, even if it means that I might be homeless for a time, or end up poor.

Just, simply trying to obey God as much as I can. Doing what's right and then worry about the consequences. Crying out to God, beging him to for forgiveness. Believing that its him who can remove the jins that are making me sick. Being certain of his existence and having no doubts. Believing in what he says in the Quran.

These are the things I did that I believe helped me Yusuf.

Last time I decided to stop medication wad after about a month if being sick. Just ad I got good I realised that in order to be able to think and stay with montheistic God i have to learn how tl live without the medication. But I was thinking what if i end up killing my self because only a day or two before i wanted to admit my self to a hospital because i felt suicidal because of the guilt that my illness used to bring on. Plus I thought, can I go through all the suffering again since its only been about a day that I was better. So I thought well for God I am going to take a risk and about fifteen to to thirty minutes later everything went to normal. My illness that is supose to be incurable because of the amount if episodes I have has desapeared. Now my plan was that if I get feeling all guilty again that I do everything I can to save my self. I wasn't going for certain death.

These are the things that I believe helped me.

Also I believe God helped me in protecting me from the psychiatrists from locking me up and forcing medication on to me.

Also, some of the people i hurt in the past were criminals them selves, but what I did I had no right to do. And I believe I have been punished from God for that. In my case I turned to him. Now what I am trying to say is that you can't heart unjustly anyone. No mater who they are. You have to respect all good laws, if you don't agree with some then I believe you should openly disobey them. Not in secret.

Thanks

________________________________

Peace and Thanks Ikrame. Reasons I am telling this story is to encourage others towards good, that is towards God. It's not ego based God willing.

Thanks

_______________________________

Peace dear brothers and sisters.

I have just come back from the meeting that I had with the psychiatric nurse, a student trainee from some university and a psychologist since at the moment I am suposed to see them once a week. And I had a litle argument.

The psych nurse told me that dr C….. is certain that I need to be on medication. That is the same doctor that that told me that he want force me to take medication about two weeks ago.

My argument was that there is nothing wrong with me wich is what they have confirmed last week and on other ocasions.(there argument weeks ago was because of my past I am certain to relapse based on rthe statistics). My answer was no, I am not going to take it voluntarily.

So then they asked what are my plans for the future? So I said that I am planing that in about two or three months when everything is fine I start looking for work. So they went like: Why don't you look for work now if nothing is wrong with you. I said because I need to get you guys of my back. I have explained that I am not going to go to an employer and ofer my self when they can turn any day andf lock me up in a hospital since I am on a comunity treatment order. Because that would be unfair to the employer.

They went on saying that the cto(comunity treatment order) is not going away and how I can chalenge it at the tribunal. I asked the psychologist, do you think that I need the medication, i told her that I am not paranoid, that I have no symptoms. But she said that two doctors have said that I need to be on medication. Then they reminded me how this is the law and psychiatrists are psychiatrists. My answer was that nazis in the second world war were just following orders and obeying law.

I got a bit upset at this time because of the dirty tactic that they were employing so I turned around and I have told him never will I voluntarily take the medication because I don't need it any more and I Them I will fight you all the way( I forgot to ad God willing, may God forgive me for that). And that was it.

Anyway I will keep you posted God willing. Just have in mind if I desapear for a while than I am going to be most likely locked up in a hospital( I think its called Royal Melbourne Hospital).

Ok Yusuf, I can't remember exactly what I had done about 9 years ago on my teeth. I think it included 3 of 4 fillings and one reconstruction. And last year I have had four teeth filled or should I say widened( I don't know the terminology for what exactly I had done) One recostruction wich I believe included a filling.

And for the end I want to ask God to help us all in being good muslims. And a reminder that we should all pray for each other on regular basis!

THanks

_________________________________

Peace dear brothers and sisters in the system and others. I have had a meeting with a psychiatrist and a psych nurse tis morning.

Aparently they had a meeting last night, Some sort of a risk team that consists of some profesor and others who is like a senior to this psychiatrist who is on the cat team whom I am dealing with now.

They made it clear that this profesors opinion is that I need to take the medication since I had seven episodes there is no way I can recover. I have asked them: Do people normaly come out of psychosis like I do. He said no.

Now I got a bit argumentative because of last week( see post 16 for that). I called the corupt and what not. I have also made it clear that I am not going to take their so called medication.

In the end he said I am revoking your CTO(community treatment order), wich means that they are suposed to arest me now and forcibly drug me even though I am not sick.

The way I see it is that they are no diferent than criminals who are trying to destroy evidence, because I am slowly proving to them that You can beat this illness even after seven episodes let alone 4. Now if they arest me and drug me, there is no evidence that you can recover.

At the same time they told me that I have booked hearing (people who have the power to put or take you of the cto) for the 16 of this month.

So I have to weight and see what happens.

No mater what happens, I pray to God that I do the right thing no mater what all the way.

_____________________________________

Peace brothers and sisters. Thank you very much for your suport. It's much needed.

I believe that I have posted all these posts for the right reasons. I believe that the only time one should talk about his good deeds that he Did is if he is not doing it to boost his ego but to help others wich is helping your self. Also, I wanted to get this story out in case they lock me up and to educate people about the truth of this illness.

But remember brothers and sisters and everyone else it was God the most mercifull who made me to do all those things. He saved me from the disaster that I was heading for.

Some

_____________________________________

Peace everyone. Thanks for keeping me in your thoughts and prayers or just for reading this post(I am going to list this on a few diferent forums) One thing I remember from around the time when I got better is that I prayed to God to forgive me for everything bad I have done. Having in mind especially the serious acts of sins that i have comited.

Anyway, i have been released from hospital yesterday. While in there they have injected me with five injections all up. Three long lasting injections and two short lasting instead of tablets that I refused. So about four times they had to get the security guards and turn me around or cary me to the bedroom where they have held me down puled my pants down and injected me.

I feel drugged now. I sleep a lot and i am not in touch with my feelings such as love and faith as I am without drugs.

On the day I got arested( Sunday week and a half ago) I got questined by a psychiatrist and she swid that my mood is a lurked bit elevated and that I go on about religion a bit too much.

First if all I was just arested and I new that they will inject me with drugs wich are very harmful wich i dont need any more. Now taking that into consideration my mood aught to be elevated. Also I will admit that without the drugs I am more in touch with my feelings. And second she did ask me about my journey from when I got sick and I told her about how I changed my beliefs more than once and how and what I believe in. I am etill very much mindfull of God iregardles of how much drugs they have given me.

Because I am not unwell they can't keep me in a hospital. The only reason they didn't release me earlier is because I ridnt want to talk with them until yesterday. Now they say that if I refuse drugs they will send the piluce every two weeks to get me and take me to mental health clinic called Waratah wich is situated in a suburb called Moines Ponds in Melbourne.

Its hard when they take away your right to being mindful of God and to chose what goes into your body. If this is not a proof of the existence of the devil and his demons therefore the existence of evil under false pretence of good then I don't know what is.

Thanks

___________________________

Peace everyone. One of the bigest reasons that I can't stand these drugs they are forcing me to take are the side effects like an anxiety disorder that has hit me hard tonight. These side effects are living hell on earth and yet the psychiatrists don't care about those.

I think they have serious issues with being evil, cowardly and simply a bunch of bad drug pushers.

Thanks
_______________________________

Peace. I have been contamplaiting and doing what I have been doing and I am back at my personal beliefs. I am back on medication but that's not it since I haven't been sick when they forcibly injected me at John Cade unit at Royal Melbourne Hospital.

I am back in believing in an infinitely compassionate and loving God. I also believe in the existence of evil forces such as the devil.

In a way I am like an omnist. If you Google omnism you will find that they believe that there is some truth in all religions.

I still stand with the fact that I wasn't sick when they injected me. When I got sick I become a Sunni, then when I got better on that night I become quran alone straight away. Now with a litle bit of contemplating I am back to my personal beliefs. I think this time for good hopefully because my illness is gone.

Thanks
________________________________________

I have to point out one very important thing from the night that I got better. Moments before I got better I started thinking that some of my conspiracy beliefs are probably true(in reality they weren't) but that things like Hollywood movies could not have been made for me. This is since when sick that's what I would believe. I did believe that there was a conection but did not believe that they were made for me.

Now think about it. Isn't it a preaty egoistic thing to believe that everything is about you. Even though i would believe that everybody hates me and it would give me grief, still it wad egoistical to believe in that.

Once I realised that in moments my illness was gone. I also admit that prior to that I did think I will take a risk in not taking the medication so that I can see the truth of everything that's possible for me to know. Like at the time it wad the truth about God that was most important to me.

Anyway, I would highly recomend a book called A NEW EARTH BY Eckhart Tolle. In it he talks about paranoid schizophrenia in particular. Also I would higly recomend him to everyone else. Not just those interested in schizophrenia.

Thanks

_______________________________
Phil

Re: Force someone to change his Religion.
on: January 23, 2012, 11:45

Almunther,Thanks for coming in and posting your friend's story. I'm not a big fan of religion, but – as they say – different strokes for different folks.Enforced drugging of people with behavioral problems continues to be a major issue in many parts of the world.One notable feature of your friend's story is that he seems to accept the notion that he is (was?) sick, and that his problem is (was?) an illness. In my view, of course, this is not the case, and – again in my view – he will never find solutions within a medical framework. Unfortunately legislators in many parts of the world disagree with me – hence involuntary "treatment." We need to keep talking and writing about these issues. We need to be exerting as much pressure on the lawmakers as the pharmaceutical companies do.Best wishes.

Phil Hickey
Ervin

Re: Force someone to change his Religion.
on: January 26, 2012, 10:04

Thanks Phil. We need to post all of the stories everywhere and we need to find politicians willing to fight thus madness. The following is a letter that my friend Almunther, who posted this thread over here as well has written on my behalf and we plan on outing the complaint to the aprooriate authorities and I personally got a greens politican calle Emily- Kate- Cowan who looks after the mental health for The greens in Melbourne Australia interested.
The following is a letter my friend wrote no my behalf. I wont you to know exactly what goes on with the psychiatry in Australia. And also I want you to know that there is always hope. I atleast I believe in intervention.This document has been written on behalf of Ervin P. to provide an approximate account of his psychiatric treatment experience with particular note to the year 2011 during which time Ervin was fulfilling the requirements of his Community Treatment Order. We hope we can convince an organisation or person of influence that Ervin has suffered an inappropriate level of inflexibility in the imposing of medication on him even though it was acknowledged by his Carers that he had naturally recovered from the illness being treated.It must be stated that neither Ervin nor I have access to any relevant personnel or medical records so all events are based on Ervin's memory but can be verified at the institutes in which he received treatment. To respect the privacy of individuals involved, names have been omitted from this document.He first began receiving medication in 2005 when after a psychotic episode he voluntarily sought help at the Werribee Mercy Hospital Psychiatric Unit. He spent around one week there and was released with some medication.Over the next few years Ervin was incarcerated for crimes which he committed while he was mentally well. This put him under the care of the Melbourne Assessment Prison –Acute Assessment Unit.

He attempted to cease medication on a number of occasions unsuccessfully and relapsed approximately once a year (4 episodes in which he committed no crimes and was not a danger to others). During these years Ervin had not taken any illicit substances although on 3 occasions had consumed alcohol and while intoxicated his recollection was faulty so he claims he cannot be 100% certain.

In early 2010, for the first time he decided to confess his crimes while he was unwell. Upon his release the psychologists he worked with during his six months of incarceration classified him a "Low Risk" of reoffending which is the minimum level of risk available.

Community Treatment Order 2011 Early 2011 – He experienced a family crisis and took illicit substances for the first time in 7 years. – Around 2 weeks later he became unwell again and made another police confession. – He spent around a week and a half at the Werribee Mercy Hospital Psychiatric Unit and was placed on a Community Treatment Order. – He began attending weekly meetings with the CAT team at Saltwater Mental Health Clinic. o During this time he complained to Dr. Juliana that antipsychotics were making him feel suicidal. He was told he had to take them regardless of the anxiety he felt. – He made two further confessions to the police while well. – He made an unofficial complaint that he had only been informed of a Mental Review Board Hearing 2 hours before it was scheduled to occur. September 2011 – He made an unofficial complaint that he had only been informed of a Mental Review Board Hearing 6 days after it was scheduled to occur. October 2011 – Ervin can no longer stand the effects of the antipsychotics so he makes a desperate choice to break off completely and attempt to face his Psychosis. He is able to naturally come out of his Psychosis. Ervin believes recover was due to the police confessions he had been making and also his religious faith.

November 2011 – At this stage Ervin has changed his place of residency and is seeing the CAT team at the Inner West Mental Health Service Waratah Clinic. – Owing to his obvious recovery, Ervin makes a verbal agreement with the CAT team that he is no longer required to take antipsychotic medication on the condition that he does not take illicit drugs.

December 2011 – Ervin meets with the CAT team who ask him why he has no job if he is well. This makes Ervin feel that they are "blackmailing"/insinuating that he was not being honest with them. He is told that they were considering placing him on medication again. -I Almunther spoke to Ervin after he had been off medication for roughly two months and had been out of psychosis for forty days. In my unprofessional opinion he seemed completely normal and his beliefs regarding Religion and a Monotheistic Deity were not in any way harmful to a tolerant society and are in line with my own beliefs. He does have a passion for his Religion, but in my opinion his mood was less "elevated" than people you see on the Religious Channels on Cable Television. I believe he was in a recovered state as we spoke at length about his situation and he seemed normal. – At a subsequent CAT team meeting, Ervin is informed that the Clinical Risk Management Team met and they came to the conclusion that Ervin was at a high risk of relapse and would either take medication voluntarily or have his CTO revoked. o He argues that he was told 0.01% of people recover and never relapse again but the CAT team denies every disclosing such statistics. o He is told that he will have the opportunity to talk at the Mental Health Review Board meeting scheduled less than a week after. Having been told his CTO will be revoked, he is not going to have the opportunity to attend it. o He is offered the option of weaker medication if he complies. Owing to the circumstances of his recovery Ervin believes medication can only harm his recovery and refuses to voluntarily take it. He expresses his disappointment that they are going to force him to take medication purely as a preventative measure even though he is strongly opposed to the action and is not even ill. – On December 10th, Ervin is forcibly removed from his home and taken to the John Cade Unit of the Royal Melbourne Hospital. While at John Cade Unit: o Day 1- He is informed by one of the doctors that he has psychosis because he talked about religion too much and had an elevated mood. Ervin argues that his mood was elevated due to the dramatic escalation of events that led to his hospitalisation. And argues he should not have been hospitalised as he was not ill. o Day 2 – he meets with a doctor. Ervin walks out during the meeting disappointed with the doctor's refusal to let him seek alternate treatments options and having determined that the sole purpose of the meeting was to determine the amount of medication required. Ervin is forcibly administered 50ml of Zuclopenthixol o Day 3 – Ervin is forcibly administered 200ml of Zuclopenthixol o Day 6 – Ervin has up till now refused to talk to doctors due to his disapproval of the entire affair. While being forcibly administered 300ml of Zuclopenthixol he is told he should cooperate or he will simply be diagnosed with Paranoia and given larger doses of medication. o Day 7 – Ervin decides to talk to doctors. – On December 15th Ervin misses the Mental Health Review Board meeting due to his hospitalisation and revocation of his CTO. – Upon release the next day Ervin's friend refuses to allow him to ride a bicycle due to his lack of alertness. Over the next few days he hears comments from his friend that his behaviour has changed. I too noticed he seemed more apathetic about life. – Ervin suffers anxiety attacks and considers suicide, he resorts to antidepressants.

Having described his situation, Ervin and I would like to express our dissatisfaction with the level of care provided and point to a few shortcomings: – Mental Review Board Hearing o was told about a hearing 2 hours before. Giving him insufficient time to access Legal Representation; o was told about a hearing after the actual event date and time had passed. Causing him to miss the hearing and potentially have a negative impact on his compliance record; o had his CTO revoked a few days prior to the hearing. He had been told during the CAT team meeting that he would be able to attend it. This is an example of the disconnect between what patients are told and what actually occurs. – He made an agreement with his Carers to not take illicit substances if they did not medicate him which they recanted without warning or reason. -Ervin claims to have been given statistical information that 99.99% of patients never recover after multiple relapses. This discussion was denied to have ever happened. Such disagreements could be easily refuted if all correspondence between clients and service providers were documented and recorded. -Ervin felt staffs were insinuating that he was lying about his recovery and reformed character. As there is no means of determining how clients are being treated by their Carers, this also builds a case for greater transparency and integrity during all interactions between clients and service providers. -There appears to be no appeal process for the revoking of his CTO. – Talking too much about religion and elevated mood were the reasons given for his re-diagnosis of psychosis which according to the Mental Health Act appear insufficient criteria in determining mental illness. – Forced Drugging – At his time in John Cade Medical Unit, Ervin was complying with all instructions. However Ervin refused to talk to doctors and this caused them to inject additional amounts of anti-psychotics. These drugs affect Ervin's negatively, inducing severe anxiety and suicidal inclinations. Nurses at the Unit commented that Ervin did not appear to have any illness so this seems an extreme measure just to get someone to talk against their will. Ervin and I believe antipsychotics have long term effects that are damaging and should not be administered just to make someone talk. We are also shocked at the level of the dosages.

It is our hope that we have provided enough detail to prompt an investigation or spark interest in this case.

Please feel free to add Ervin on facebook and support him: Ervin P – http://www.facebook.com/profile.php?id=100000866088564 Almunther A
Phil

Re: Force someone to change his Religion.
on: January 31, 2012, 12:21

Ervin/Almunther,Thanks for an interesting comment. Much of the difficulty here stems from the fact that psychiatry is no longer a helping profession.In the first half of the 20th century psychiatrists saw themselves as a profession who helped people cope with the problems of life – especially in the area of family relationships. There is ongoing debate as to how useful or successful they were in these areas – but that is how they presented themselves, and undoubtedly they did help many people.Today psychiatry is, first and foremost, business. It is a vital component of the pharmaceutical drug trade. (Note I did not say medication trade, because in my view the drugs that they peddle are not medicines – but are mood/behavior altering drugs – in the same general category as opium, marijuana, alcohol, tobacco, etc..)Secondly, psychiatry is an arm of law enforcement. Law enforcement is in the business of altering/restraining behavior. And the availability of drugs that can accomplish this establishes a clear basis for collaboration between psychiatry and the police. Virtually every county in the United States has a mental health center (under the ultimate authority of a psychiatrist), and these centers always have, and maintain, close ties with the local police.

I'm not saying that this is necessarily a bad thing. Perhaps forcibly injecting people with major tranquilizers is more humane and safer than subduing them the old fashioned way. That debate continues. But – and this is the critical point for me – it's not medicine. It's not healing; it's not treating illness. It's controlling people through the use of drugs. And it has become widespread practice in America and probably most western countries.

The practice, of course, is being challenged on various grounds, including civil rights, and we can expect to see this tussle go back and forth for many years to come.

Best wishes.